THERA CREATIONS
FAQ
Q1: Which Product Is Your Best Seller?
A: Pain Be Gone Body Butter.
Q2: What Are The Active Ingredients In Thera Creations Products?
A: The Active Ingredients In Thera Creations Are All Plant Based Essential Oils And Herbs (Flowers And Bulbs)
Q3: Does Pain Be Gone Have CBD In It?
A: No None Of Our Products Have CBD In Them. We Prefer To Keep Our Products Clean For Everyone To Use. Safe For
Children, The Elderly, Athletes, And Those Going Through Chemo And Radiation. CBD Typically Has The Effects Of Pain Relief For About A Hour Or Two Or Sometimes Not At All. Pain Be Gone Works 5 Minutes Upon Application.
Q4: Why Should I Use Pain Be Gone Over Your Competitors?
A: Pain Be Gone Is An All Natural Product Made From Plant Based Essential Oils. It Helps With Not Only Your Pain But It Helps With The Stiffness And Inflammation That Comes With The Pain. Pain Be Gone Last For Up To 6 Hours Or Longer When Our Competitors May Only Last An Hour.
"Our Products Are Created Specifically To Help Restore And Revive Every Body, Naturally."

-Joselyn, founder of Thera Creations
Check Out Our Different Product Lines
Leave Us A Review TheraCrew
Please Leave Us A Review!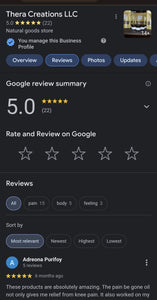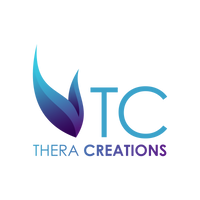 Gift Cards
Don't Really Know What Product Your Loved One Wants?
Get Them A Gift Card And Let Them Go Shopping For Themselves And Purchase Their Favorite Thera Creations Products.
Gift Cards